06

Jan

New Year - New Look!
---
Happy New Year!!
I'm sorry I haven't blogged for a while, December just flew by and before I knew it, Christmas had come and gone and suddenly we were in 2013. So glad the world didn't end on the 21st...I got a lovely watch from DH and it would have been a shame if I'd not got to wear it!
The site has changed somewhat......After being told it was the website equivlent of a Avocado bath, I thought I had better have a re-desgin. I think I am happy with it...but may still make some tweaks here and there.
I was also told my plaques were a 'little out of fashion' so I was pleased to get a repeat commission for a bedroom plaque - It's the same as her older sister Chloe's, but in lilac. Has been a while since I'd got the paints out so it felt really good to be painting a plaque again.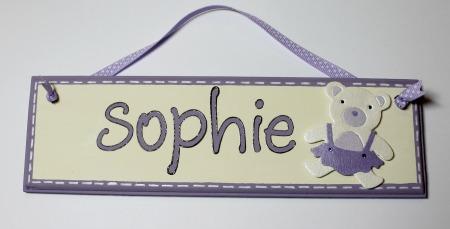 So I look forward to 2013...hoping that with oodles of hard work and promotion The Dragonfly will take flight and soar!
That's really it so far....Have not really got back into the swing of things yet after taking some time out from making. But starting tomorrow, it's all action, action, action as I work to acheive success in this new year!
To end the day, I am off to take a look at the first Handmade Monday of 2013!!
Bye for now
S x